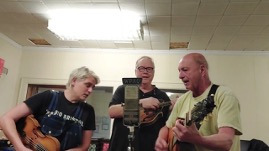 Masters of primitive bluegrass, The South Carolina Broadcasters are deeply rooted in the Appalachian musical tradition. Their unadorned instruments and three voices sing the songs of their homeland as only those who know and feel it can.
The band features David Sheppard (guitar, vocals), Ivy Sheppard (fiddle, banjo, vocals), and Tom Mindte (mandolin, vocals). Their razor-sharp harmonies, exceptional multi-instrumentation, and fabulous song selection will have listeners riveted to their seats.
October 5, 2023, at 8 p.m. at Unitarian Universalist Society of Mill Creek
579 Polly Drummond Hill Rd, Newark, DE 19711 (near Paper Mill Road)
Tickets at the door:
Public $25;
Seniors $20;
BFOTM Members $15;
Students with ID $15;
Ages 17 & under FREE!
More info:
Web: www.brandywinefriends.org,
Email: concerts@brandywinefriends.org
Phone: (302) 321-6466